Emergency Notification Center

WASHINGTON VALLEY ROAD PROJECT:
Reconstruction of Washington Valley Road (County Route 616) from Chimney Rock Road (CR 525) to 700' east of Eastbrook Road, Bridgewater Township, Somerset County
Update Summary:
Bridge replacement work west of Van Nest Drive on Washington Valley Road to begin on August 22nd requiring the full closure of the roadway with concrete barriers. Stage 2 work continues with the same detour in effect.
Project Status:
The Contractor continues work in Stage 2 portion of the roadway, west of Van Nest Drive to Chimney Rock Road, as well as having begun work at the intersection of Chimney Rock Road. Stage 2 work is broken into Stage 2A and 2B as required for the bridge replacement near #2025 Washington Valley Road. The bridge work requires the full closure of the roadway for the removal of the existing bridge and replacement with a new concrete box culvert. This is commencing today, Thursday August 22nd. The  only change related to this work is that concrete barricades will be placed around the bridge excavation meaning that the barricades cannot be opened for emergency services; notices to the local police and to the various emergency services agencies have been made.
Residents east of the bridge site will continue to access their properties via Laurel Trail and Vosseller Avenue. Residents and businesses west of the bridge site will continue to access their properties from the Chimney Rock Road intersection until the bridge work is completed, around late September. Once the new bridge is installed, the full barricade will be relocated to the west near #1997 Washington Valley Road. Notice will be provided at that time to residents/businesses from #1997 to #2025 Washington Valley Road to begin access to access their properties from the east via Laurel Trail and Vosseller  Avenue. The work remains on schedule with the anticipate re-opening of Washington Valley Road to be in mid-October.
School Buses:
The County has continued to coordinate with the Bridgewater Regional School District (BRSD) Transportation Department so they can develop modified bus routes for the new school year. The BRSD will be announcing any changes to routes. To maintain safety throughout the project, buses will not be allowed to pass the full barricades on Washington Valley Road. Buses will be able to access the work zone via the local connection streets, including Vosseller Avenue, Laurel Trail and Eastbrook Road.
Road Closure Barricades:
Full barricades will continue to be used, the easterly one near Mayflower Court and the westerly one between Chimney Rock Road and Van Nest Drive. These barricades are in place to establish and  maintain the regional traffic detour routes and to provide the local residents and construction personnel with a safe work zone. These barricades will remain on Washington Valley Road for the project duration and should not be moved for anyone except emergency vehicles and construction equipment.
*It is illegal to move or damage construction signs and barricades (NJ STATUTE 39:4-94.2).
 Project Website:
Additional information and updates on this project can be found on the Somerset County Engineering Divisionwebsite:https://www.co.somerset.nj.us/government/public-works/engineering/projects-under-  design/washington-valley-road-project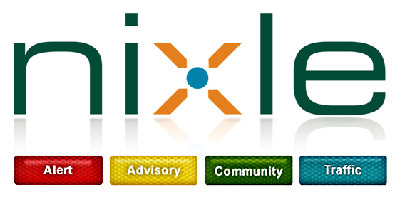 The Bridgewater Township Police Department began utilizing a new and secure communications service which allows them to send important, valuable community information to residents instantly via cell phone text message and/or email. Notifications can also be accessed online at Nixle's web site at www.nixle.com.



Messages may include road closures, power outages, construction alerts, emergency situations, as well as other relevant safety and community event information. These messages can be sent specifically to residents registered within a ¼ mile radius, giving them the opportunity to receive trustworthy information relevant only to their neighborhood. Residents can decide from which local agencies they want to receive information and also the way in which alerts are received – via email, text message or over the web.



Residents of Bridgewater Township and those in neighboring communities can immediately begin receiving pertinent information via text message, email, and web by registering at www.nixle.com.