Michael Kirsh – Council Vice-President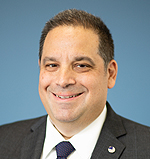 COUNCIL PRESIDENT MICHAEL KIRSH
Representative to:
Budget & Finance Committee
Liaison to:
Bridgewater-Raritan Board of Education
Green Brook Flood Control Commission
Raritan and Millstone Flood Commission
Raritan Valley Rail Coalition
Alternate Liaison to:
Creative Arts Committee
Sewer (SRVSA)
Somerset Regional Animal Shelter
Somerset County Solid Waste
Councilman Kirsh can be reached at mkirsh@bridgewaternj.gov
1. How long have you lived in Bridgewater?
14 years
2. How long have you been serving on the Township Council?

2 years, since January 1, 2020
3. What is your favorite thing about living in Bridgewater?
Being the host community of TD Bank Ballpark, home of the Somerset Patriots. Major League and Minor League ballparks are truly my "happy place", based on all the wonderful times I've had with family and friends over many years. I'm so proud we can be the direct source for cherished memories for local residents and those beyond our borders.
4. What part of your work on the Council are you especially proud of?
Our productive partnership with Mayor Moench and the Administration to help guide our ship of state through the choppiest of waters, which over the last two years has included a devastating global pandemic along with a historic, deadly storm.
5. What do you look forward to most of the coming year in Bridgewater?
Pivoting away from being so Covid-19 focused and continuing to deliver on many of our promises to local residents. These include the ongoing rebuilding of our roads, making transactions and interactions with our government easier, and as a member of the Budget Committee making sure that we continue to deliver outstanding services at an affordable price.