Department of Engineering
Overview
The Engineering Division deals with a wide range of activities. Our main function is to assist and protect the public by reviewing development applications and monitoring construction for compliance with township codes and conditions of approval. We also work on township improvement projects, investigate and respond to a wide variety of questions and concerns such as construction, drainage, property surveys, street light outages, traffic, utilities, etc.
Available in our office are the official tax maps and zoning maps for your review or purchase. Soil Disturbance permits for disturbances greater than 5,000 sq ft and Road Opening permits are also available in our office or online.

Click here for the Soil Disturbance permits or click here for the Road Opening permits.
Tree removal on private property is governed by Township Ordinance.
 • Click here to view this ordinance
• Click here to access and download the Tree Removal Application
Please contact the Engineering Department by phone at (908) 725-6300 ext. 5500 if you have any questions.
CALL BEFORE YOU DIG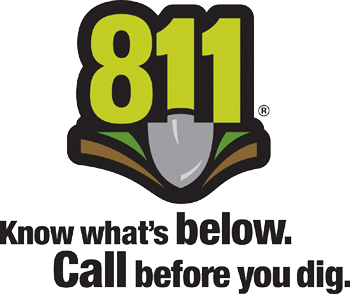 The federally mandated, national phone number, 811, helps prevent you from unintentionally hitting underground utility lines. Before you begin projects that involve digging, dial 811 to locate underground electric, gas or other utility lines. Digging without this information can cause power outages, and it's extremely dangerous. Simply tell the 811 operator where you're planning to dig and what type of work you will be doing, and your local utility companies will be notified. Within a few days, they will mark the location of underground lines.
Please call at least three days in advance to avoid unnecessary delays to your project. Know what's below – Call before you dig!
 For more information, visit http://www.call811.com.